LASER SPECIFICATIONS: MEDRAY PRIME
The complete hands-free laser system.
The MEDRAY PRIME Class IV Laser System represents state of the art technology that allows the clinician to treat all body parts and conditions totally hands free and non contact.
Never before has a 27.2 w. quad wavelength laser been offered that gives you and your patients incredible hands free treatment capabilities while allowing the doctor to see other patients at the same time.
MEDRAY PRIME is designed to be staff driven with over a dozen preset conditions. A quick three touch sequence and you are treating.
Everything needed is priced at only $12,995.
BONUS!  With the MEDRAY PRIME will you also receive free S.T.A.R. hands-free software, adjustable cart, flex arm and emitter holder (all the tools and software).
Simply stated, there is no other hands free system like the MEDRAY PRIME.
Upgrade to MEDRAY PRIME PLUS and receive everything listed above, in addition to a free MEDROLL and the ability to unlock all MEDRAY protocols and treatments for unattended therapy.
27.2 watts of Class IV laser power: 650, 810, 915,980 nm all at one time

Fully 510k FDA compliant; please check, many imported lasers or LED units have no FDA compliance at all

Every component furnished:

MEDRAY Laser

STAR protocols

3 pairs of laser glasses

Flex arm

Optical headpiece and more
All marketing and laser certification course included

All preset treatments are optimally programmed for quick setup

Free 30-day trial in "The Laser Masters"

Complete hands-free and patient-free contact and treatment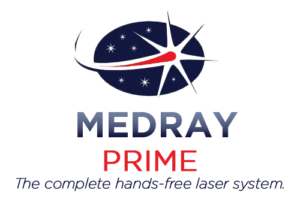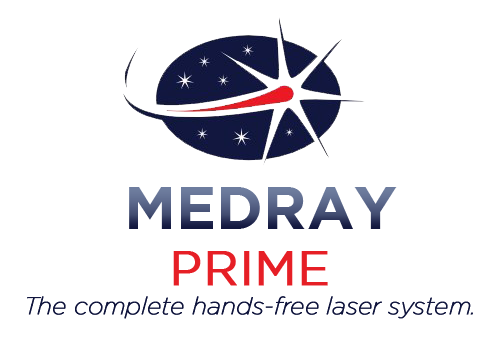 With the unprecedented grown of Class IV laser, more and more doctors want to include this fantastic therapy, but don't have the staff or want to include the extra time needed.  This is where the MEDRAY PRIME Class IV Laser System comes in.
The MEDRAY PRIME is designed for one function, total hands free Class IV therapy in a safe and convenient, all encompassing package that not only produces the results you want but is the most affordable hands free system on the market.  When we say affordable, the Medray Prime means it.  The Medray Prime system is at least $12,000 – $15,000 LESS then it's nearest competitor and gives you more features, more power, more wavelengths, and with a price that no company can even come close to.
Your MEDRAY PRIME system comes with the MEDRAY QUAD, 27.2, four wavelength laser, one of the strongest and easiest to use quad lasers on the market.  You also receive an adjustable flex arm with emitter holder and the MEDRAY optical headpiece.  The MEDARAY optical headpiece when combined with the STAR handsfree software allows for total and full handsfree operation.  Also included is the MEDRAY PRIME Therapy Cart.  This cart was designed explicitly to be used with the Medray lasers.  it is easily assembled and is fully height adjustable by squeezing the two finger trigger.  The MEDRAY PRIME Therapy Cart not only makes hands free therapy easy, but is a fabulous upgrade to your clinic.
When you turn your MEDRAY PRIME laser on and log in, you are taken immediately to the STAR hands free screen.  Simply adjust the emitter to the body part you want treated, press the body part on the screen, touch standby and treat.  You can give the patient the fantastic wireless stop switch for that extra added level of safety.  This whole treatment setup takes just seconds.
One final feature of the MEDRAY PRIME system is the ability at any time to upgrade to MEDRAY PRIME PLUS.  This $3,500 upgrade to MEDRAY PRIME PLUS unlocks a full new realm of software and treatment capabilities.  Now, you may treat handsfree or attended as your patients condition dictates.  You not only receive the MEDRAY software upgrade, but additional treatment heads for your MEDRAY emitter.  One is the standard emitter cage with snap on clear acrylic covers for attended treatment and trigger point therapy.  We also include our fabulous new Medroll rotating head with crystal clear and easily removable and cleanable crystal ball that glides effortlessly over the patients skin.
The MEDRAY PRIME therapy system now puts hands free, Class IV laser in an affordable package for everyone and every clinic or therapy location.