CHIROMA STATIONARY ELEVATION DROP TABLE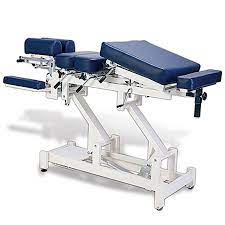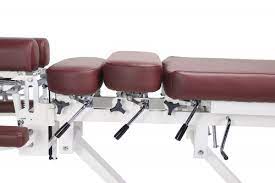 The Chiroma is an 8 Section Chiropractic Table (Electric) with 4 Sections of Adjustable Tension with Drops at the (1) Head (2) Thorax (3) Abdomen Sections.
Acculfex is pleased to team with one of our partners, and introduce the CHIROMA stationary – elevation – drop table.
The Chiroma provides professional chiropractor with the simplicity of use with a wide variety of features.  Not only does the table come with full drops, but elevation as well which helps qualify for the ADA tax credit.  This is a very loaded table for the price.
The Chiroma comes equipped with a cervical drop that also has a tilt and elevation feature.  A thoracic drop, a lumbar drop, and finally a pelvic drop.  All drops can be cocked from either side of the table.
The elevation feature comes standard with a hand control and two buttons, or choose the optional dual foot controls for only $75 more, so you can raise the table from either side.
The Chiroma table can be ordered in Navy, Black, Gray, Beige, and Burgundy.
Equipped with 1 Motorized Actuator for Hi/Lo Adj. And now 2 motors, one for head piece and one for the pelvic

Adjustable Tension Drop – Cervical, Dorsal (Thoracic), Lumbar, Pelvic

Twin "Oversized" Pillars for Added Stability

2 * Individual Leveling Foot at Head Section

2 * Hauling Wheels at the Rear Section
Designed to be lifted and moved around by lifting JUST the Arm Rest

Maximum Load Capacity of 225 kgs / 496 lbs

Warranty Period (Years):

1 yr on Mechanical Parts

2 yrs on Electronics

3 yrs on Frame

100~240VAC (Universal Voltage)

Plug Type: US Plug
Head Section Length: 310mm / 12.20"

Arm Rest Length: 410mm / 16.14"

Thoracic Section Length: 190mm / 7.48"

Abdominal Section Length: 220mm / 8.66"

Lumbar & Leg Section Length: 580mm / 22.83"

Ankle Section Length: 120mm / 4.72"

Total Length: 1600mm / 63"

Head Tilt Angles: -15º to +15º
Head Elevation:100mm / 3.93" inch

Head-Drop Travel Range: 220mm / 8.66" inch

Thoracic-Drop Travel Range:250mm / 9.84" inch

Abdominal-Drop Travel Range: 250mm / 9.84" inch

Lumbar & Leg- Drop Travel Range: 170mm / 6.69" inch

Lumbar & Leg Tilt / Lift Angle: 0º to 15º

Ankle Section Extension Range: 280mm / 11.02" inch